Want to be known? Do you want your company to be more and more visible? Would you like your products or services to reach a very large number of people? Wondering how to turn potential customers into loyal customers? Dreaming of converting? Then read this article to find out how to get all these things.
If in the past brand promotion took place only in the offline environment, using street signs, directly in stores or through local or nationwide radio and television media, it is different now.
Currently, brands have the opportunity to reach a large number of users using the promotion tools available in the online environment.
How can I do it? One of the effective ways of promotion is advertising through PPC campaigns.
What is a PPC campaign?
How do brands manage to promote effectively? How to get a conversion? How do they manage to sell?
The answer is simple. Implementing PPC (pay per click) campaigns. That is, by placing paid ads on one of the existing platforms, Google, Facebook, Instagram, Linkedin, TikTok, etc. The goal is to increase the company's visibility and convert users into customers.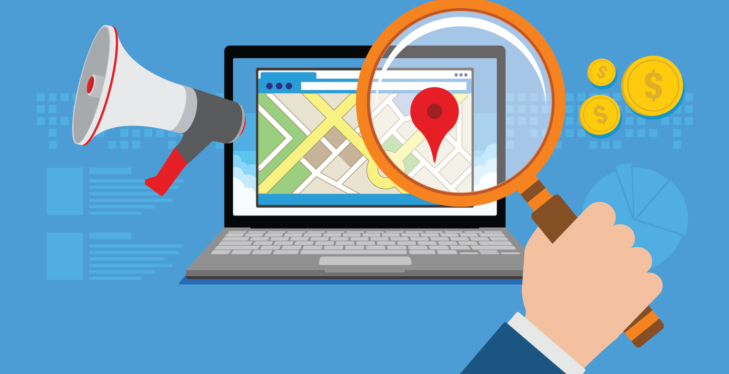 When implementing a PPC campaign, we can set several goals, including: enrolling in a course, downloading a guide, purchasing a product or service, etc.
Pay Per Click is the term used by dedicated platforms when they are used to drive traffic related to your brand.
It works based on an auction system, with the payment of a certain amount each time someone clicks on your ad, an action that directs them to your product or service page.
A properly built and implemented PPC campaign makes your company recognizable, attracts visitors to your website and generates conversions.
So PPC (pay-per-click or cost-per-click) means that the brand only pays when the ad is accessed.
If you want to get relevant and intensive traffic to your brand's website or you are a brand employee specialist and you want the number of key visitors to be high, PPC campaigns are the answer.
How it's working?
As we said above, PPC campaigns use bidding. You (remember that your competitors are doing the same) are bidding on the keywords you set in your running campaigns.
The purpose is to drive traffic to the site and generate user actions such as registration or purchase. In this step, you turn a potential customer into a customer. Faithful or not. It's up to you if he comes back.
This type of campaign is not the only paid promotion model. Therefore, it is very important to distinguish between those and others that relate to:
PPM (pay per thousand). In this campaign model, the brand pays a fixed amount per thousand impressions.
PPA (pay for purchase). The fee is paid each time the user takes an action, such as downloading an app.
Why is a PPC campaign important?
Because it is the most effective way to attract traffic related to your company.
How long does it take to get results?
The results will be visible in a very short time. The movement appears from the beginning of the campaign.
To fully understand how these PPC campaigns work, we need to know a few key terms.
Key concepts to help you understand Pay per Click campaigns.
CPC or cost per click. Refers to the price paid for each click on an ad. This is an indicator that determines how much a brand pays for ads placed on its website or social media, depending on the number of clicks it receives. How it's working? The system compares the ad with similar ads based on their quality and the price they are willing to pay, showing the winning ad first.
CTR or click-through rate. It represents the percentage of users who accessed the ad compared to all users who saw it. The better the ad, the higher the CTR.
Impressions. The term refers to the number of times an ad was shown, whether triggered or not.
Segmentation. Online advertising gives you tremendous control over the audience you want to target with your advertising. You can segment your audience based on age, gender, location, interests, etc.
Landing page or page for your product or service. This is the page to which the user who clicked on the ad is directed. Now, depending on the relevancy and quality of the page, visiting an ad can convert or leave the page in no time. Depending on the time spent on the site, the user may come back at some point. And the fact that he found out about your existence is important.
Recommendations
It optimizes the site well, both for desktop and mobile devices.
Create high-quality and relevant content for the reader.
Use specific and clear words.
Conversion. This is the action taken by the user after entering the ad. Conversion rate is the percentage of users who converted into customers out of the total number of users who saw the ad.
Conversion rate = number of conversions ÷ website visits
Frequency. The number of times your ad was shown to a specific audience in a given time period.
Frequency = number of views ÷ number of unique visitors.
SEM, search engine marketing. A phrase that refers to digital marketing efforts on a specific search engine.
Quality Score. This is the rating that the search engine assigns to your ad based on your CTR.
Understanding the key concepts and how they work will help you create an effective PPC campaign that will take you to the heights of success. Which will drive traffic and generate sales.
Types of PPC campaigns
The possibilities of reaching potential customers based on your avatar are endless.
Depending on the specifics of your business, as well as other criteria, there are several types of PPC campaigns. Which are they?
Campaigns that aim for maximum performance. This is a relatively new type of goal-based campaign. Allows access to all channels in one campaign with automatic optimization. The goal is to improve performance based on setting conversion goals.
What benefits does this bring to business?
-Automatic optimization as soon as the ad starts. You can target an audience category that has a high chance of becoming customers;
-Increasing the number of conversions;
– Acquiring new customers. By operating in real time, you can identify user intent and serve the right ads at the right time. You can also upgrade them;
-Access to comprehensive statistics that you will use to improve your campaign.
Display ad network. This type of campaign is based on showing ads to the audience you want to reach when they visit millions of sites on Google, but also in search applications.
What benefits does this bring to business?
Acquiring customers and increasing the number of conversions. The more attractive the visual part, the more people will reach the ad. We all know how important the visual creative side is;
You have the chance to create memorable ads that will lead the user to the conversion stage.
Local campaigns. The ads you create and integrate in these types of campaigns will be displayed on multiple channels, such as Search, Display Network, Youtube, Google Maps. The goal of local campaigns is to attract potential customers to your stationary store.
What benefits does this bring to business?
Increasing sales;
Do you offer promotions? This type of campaign is the perfect tool for displaying promotions
You have the option to create an informative ad with details about your business, such as your address and other information, to help people who want to see your store find you easily.
App Campaigns. You have the chance to promote your campaign through multiple channels.
What benefits does this bring to business?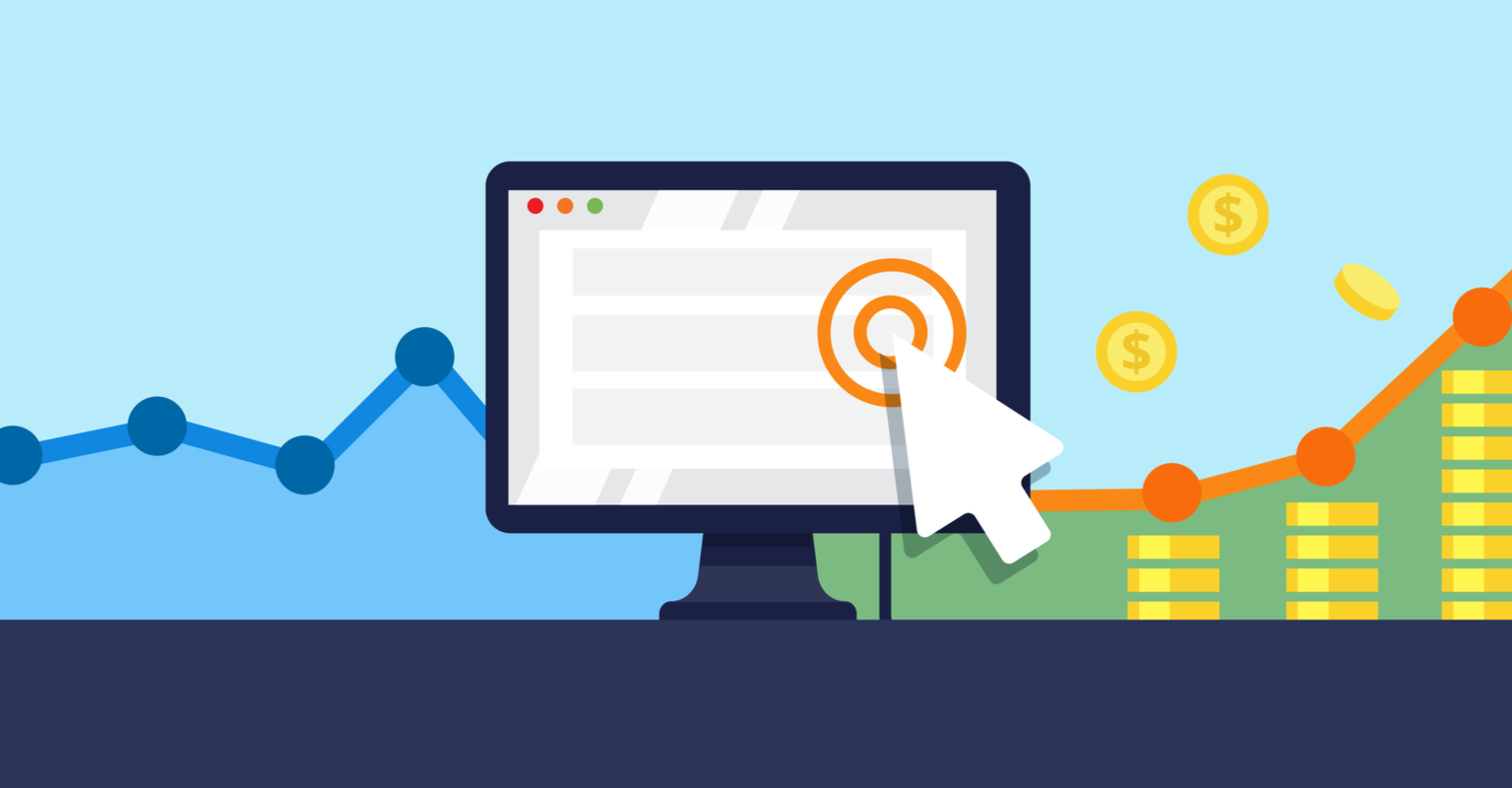 Advertisement. If the app generates interest and targets the right audience, the app will be downloaded and generate intense engagement; -The promotion takes place on several channels. on the search network, display network, YouTube, Google Play;
Multiple application targets can be selected.
Video campaigns. A tool that helps you display a video ad on both YouTube and other sites. Multiple goals can be set for these types of campaigns.
What benefits does this bring to business?
Setting the goal of consciousness;
Setting a conversion goal;
You reach users outside of search results when they are on YouTube.
Search campaigns. This campaign consists of displaying text ads in search results when users search for the products you offer. One of the effective ways to increase the number of conversions, customers, website traffic. Why? Because this type of ad will be displayed to people who are actively searching for your product.
What benefits does this bring to business?
Potential customers;
Conversions.
Each type of PPC campaign has its advantages. It's up to you which one you choose, how you manage to create it and how relevant it is to the audience you want to reach. But with careful research, you'll know what to do.
Benefits of pay per click campaigns
In addition to the financial motivation for which a pay per click campaign is launched, if it is thought out and created for performance, it brings personal satisfaction. Satisfaction with a job well done and the results achieved. This should be the ultimate benefit, no matter what action we take.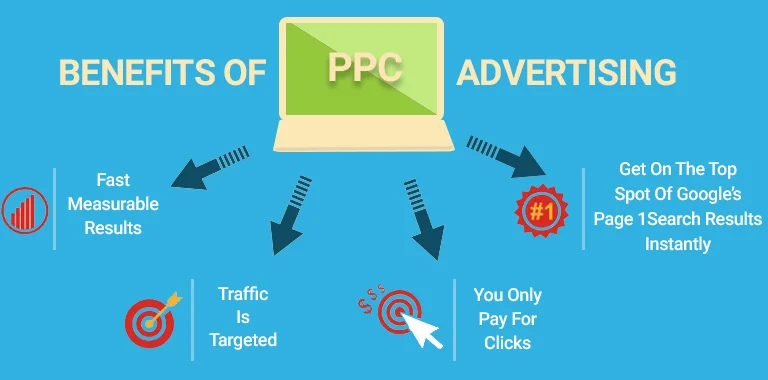 The benefits of PPC campaigns are many, and brands that use them gain visibility, recognition, interaction and conversions. Of course, under certain conditions.
Their impact is significant for your brand if they are well thought out. The results are measurable, which helps you improve your campaigns. The information provided by the implementation of PPC campaigns is very valuable because it is obtained in real time.
Visually appealing advertising and relevant text translate into huge traffic on your company's website.
How is the ad seen? In what order are the elements of the advertisement perceived?
The first visible element of the ad is the image;
The title follows;
The third perceived element is the text below the image.
So what are the main benefits of these pay-per-click campaigns?
It helps to achieve business goals
You can achieve anything from visibility to conversions. The obtained traffic determines a large number of conversions. Pay per click campaigns are a great tool for getting guides, promotional materials, newsletter signups, app downloads, etc. The call to action needs to be clear. It is not enough to attract with an interesting image, a convincing headline and sticky text. If the call to action isn't clear, you'll lose a potential customer.
The main benefit
The main benefit is that people search on search engines for the products or services they need, and with around 2 billion people using the internet, imagine how important this detail is to your business. An advertisement placed in a PPC campaign has a great chance of conversions.
Pay per click campaigns can be measured and monitored with several tools
Detailed information about ad performance, users who saw your ad, their behavior on the site and conversions will help you improve your ads.
Control over PPC campaigns
You have various settings to control how you reach potential customers. You have flexibility with your budget. If your ad is showing positive results, you can increase your budget right away. If you want to pause the ad.
It attracts traffic to the site
The user is accessing this ad, but once they reach the page for the product or service you are advertising, there is a high probability that they will also go to other pages on the site.
You only pay for performance
You will only be charged for clicks.
It works very well with other marketing channels
Content marketing is king in the world of digital marketing. A well-prepared content plan is the key to success. Unique, relevant and high-quality content will surely attract visitors to your website.
Increase in sales
Since many users will see your ads, although not all of them will make a purchase, some of them will.
The implementation of a PPC campaign must meet several basic criteria to reap all the benefits.
How to run a successful PPC promotion
There are several elements that distinguish a high-performing PPC campaign from a low-performing one. What elements are we talking about? Creativity, organization, selection of the most appropriate keywords, implementation, continuous monitoring and analysis, elements of effective PPC promotion.
In a PPC campaign, ads are placed to appear on a specific platform when users are searching for your product or service. Depending on the rates, ad relevance and attractive text, the PPC campaign will be successful or not.
It's true, keywords are the basic element of PPC promotion. But they won't work if they're not integrated into a high-quality campaign structure.
What are the basic elements of PPC promotion (pay per click campaigns)? The structure contains a campaign that is part of several ad groups or just one. Each group must have keywords, text, and landing pages.
campaigns;
ad group;
Keywords;
Text;
Landing pages (product or service page).
Don't imagine your role ends once the campaign is launched. Not. This needs to be monitored and analyzed with special tools. Analytics will help you get the information you need to improve your campaign.
What improvements are you making based on the information you get from the campaign? You can modify or change keywords, you can remove ads that are not yielding results, you can change the structure of landing pages, etc.
There are different ways to promote your brand online, but some options are better than others. There are ways that bring results later than others, such as promotion through content marketing or SEO.
Although promotion through content marketing or SEO is quite affordable in terms of cost, more than 50% of business owners prefer and use PPC promotion.
How to properly run a PPC campaign?
Choosing the right platform to launch and implement the campaign.
Determining the details. The goals you are aiming for in the campaign. Visits, conversions, brand awareness. Think about the avatar of your target audience. Goals need to be measurable so you know how to improve future campaigns. Set the metrics you will measure based on your goal.
Select a campaign type. If you want to reach a specific audience, you can do so with several paid campaigns. Search Ads, Display Ads, Remarketing, Google Shopping.
Research stage. Each brand promotion method must start with the research stage. The same thing happens with ppc promotion. You need to find out who you are targeting, what the needs and wants of potential customers are.
So you need to create this "buyer persona". After creating the avatar of the target customer, it is necessary to determine the relevant keywords that will be implemented in the campaign, words that will appear on the search engine page according to what your potential customers are looking for. Skipping the keyword step will make conversion almost impossible.
Ad creation stage. Depending on the keywords, the ad is outlined and placed on the landing page. The landing page or the page of the product you are advertising must be transparent, contain the answer to the user's problem, show him how his life will change if he uses it. Don't forget about formatting. Airy text with the use of bullet points and interesting pictures will attract the user.
Every time you compose a text, imagine that you have your best friend in front of you. Use phrases that your target customer's avatar uses.
In this way, you will create a clear message with a personal touch, making the text a must-read. If you have multiple avatars, you will have to create texts according to each avatar.
It is obvious that attractive and relevant text will attract the attention of users. This is a fact proven over time. Subtly turn features into benefits and show the user how they will feel after taking the action you want. Show him how his life will change after buying your product or service. Focus on what people want to achieve.]
Because people do not buy the product and service. They don't buy tickets for a vacation, but how they will feel in a while and when they return home.
Use a clear and easy-to-follow call to action to convert.
Extensions provide information about your company's physical data and contact details. Extensions increase the visibility of your campaign. So when you create an ad, you can add your business information. The right extensions and keywords will help you rank better, even if your competitors are bidding higher.
The stage of PPC campaign management consists in possible adjustment of goals, adding or removing keywords, reassessing the originally established plan.
What campaign metrics do you want to track? Clicks, cost per click, CTR, impressions, budget spent, conversion rate, cost per conversion.
Creating a well-structured and defined plan before launching and executing a promotional campaign in an online environment, whether it is PPC, SEO, content, determines the success of the campaign.
Platforms where you can run PPC campaigns
Once you've created your customer avatar, you'll be able to easily identify the platforms you want your ads to run on.
The best customer acquisition channel today. We all search for something online, so it's obvious why this is the most effective platform. The beginning of the pandemic generated an 80% increase in online shopping and since then people have realized the importance of having an online business presence. Competition has increased. The need to exist has also increased.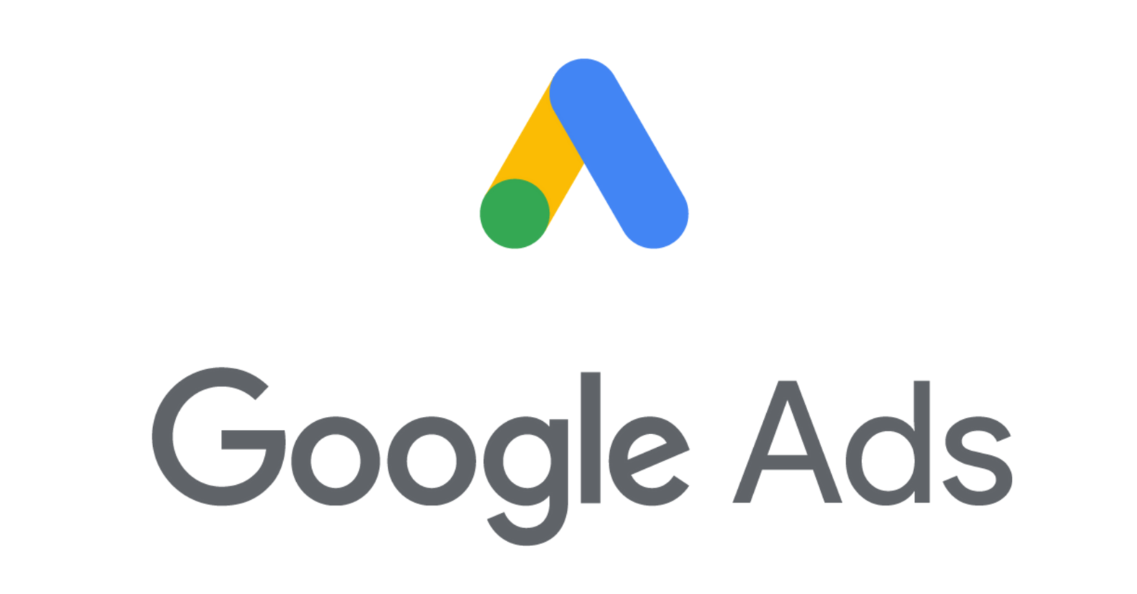 Social Media Ads (Facebook, Instagram, Pinterest, Linkedin, TikTok)
Promotion through social media platforms is very important and increasingly used. On these platforms there are people belonging to every age group and with a wide spectrum of interests, hobbies, passions. Your ad will appear in the newsfeed.
Paid advertising platforms are an effective tool to start your business. You can quickly reach your target audience and improve your site with the data you get from monitoring your promotional campaign.
Why create a multi-channel PPC funnel?
What is a multi-channel funnel?
This is a group of reports available in Google Analytics that allows you to obtain information about marketing channels that contribute to conversions. These reports also show how conversions are happening and where they're coming from.
The MCF shows the steps a consumer takes from viewing an ad to visiting a website and making a purchase. This is especially important because it shows what content and campaigns are working, and based on this you can see what needs to be improved and what is worth investing in.
What is the main purpose of a multi-channel PPC funnel? It shows how marketing channels work together to increase conversions and sales. For example, many people can make a purchase on your site after doing a Google search.
The presence of one channel is no longer enough for conversion. We need to be aware that the user has changed their behavior. It is present on several platforms, which means that the presence of your brand on several platforms increases the chance of a purchase.
For example, you want to implement a PPC campaign for your product that needs to reach the platforms your potential customers use. Facebook, TikTok, Instagram, YouTube, Linkedin. How to find out where they spend their time? Remember! That buyer persona that says everything about your prospect. PPC campaigns placed on multiple platforms will target users who access the ad and land on the product page.
The funnel concept in marketing is a strategy designed to attract visitors to your business, leading them to convert.
The marketing strategy must adapt to each stage that the user goes through until they become a customer. The consumer journey, in other words.
The classic funnel consists of 3 stages:
Top (for a cold audience)
The purpose of the stage is brand recognition, in which the demand for a specific product is discovered. How do you as a brand get to this consumer stage? Through blogs, ebooks, presence in social media. This is the stage where you build trust. Confidence that the product is the best solution to the consumer's problem that you offer.
Middle (for warm audiences)
The consumer begins to think about solutions and brands that can provide them with these solutions. At this stage, the user may have already found your blog or website and started looking for different solutions. This is the most important stage because it is the bridge between the top and bottom of the funnel.
Bottom (for hot listeners). The stage where you're trying to maximize conversions
Conversions are sales, email signups, ebook downloads, etc.
What happens when we stop PPC campaigns?
It's important to know what happens if you stop a PPC campaign to quickly find solutions.
The solution is the right content to attract the user's attention.
After the end of the AdWords campaign, the ads stop showing.
If you terminate your Facebook Ads campaign, you should expect a drop in ad reach. What is the solution in this case? Relevant content for people who like your brand. You can target your ads to a specific audience and your ad will only be shown to them.
Tools used in PPC campaigns
Implementation of PPC campaigns is a complex process during which several tools are used.
Google keyword planner
It is a tool with which you will be able to determine what the audience you want to reach is looking for in the search engine. How does Google work? Based on your history, the engine suggests keywords related to your website. To access the tool, you must have a Google Adwords account.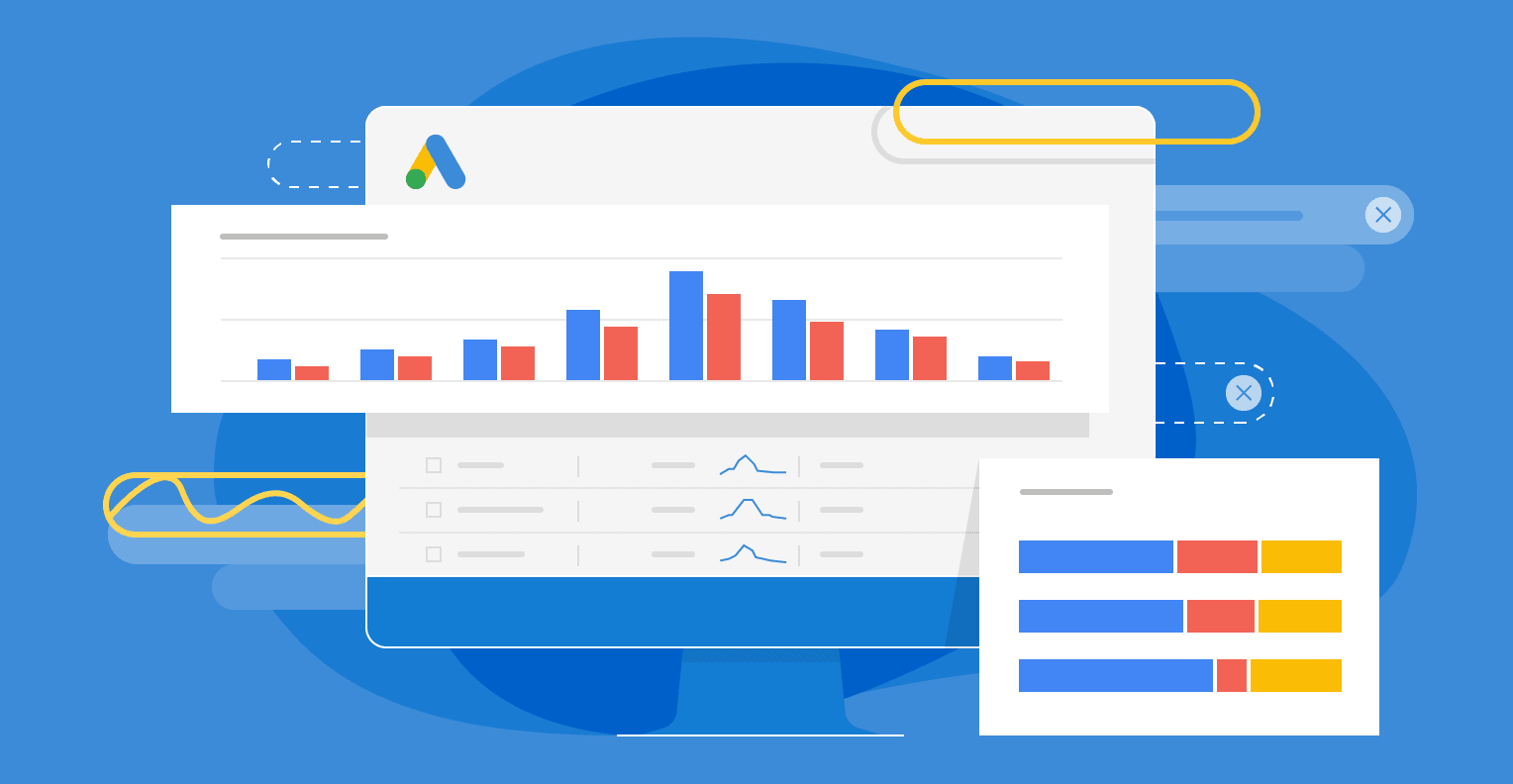 What kind of keywords does Google use?
These exact match keywords that you can include in your ad are visible to customers who search for these types of phrases with the same or similar phrase.
Broad match keywords. Why are they called that? Because the search engine will try to match your ad to a wide range of searched keywords. For example, if you publish an ad with the keyword wedding dress, the search engine will also display your ad for the phrase formal wear.
Negative keywords. These are phrases that you have set as a restriction to prevent Google from including them in your campaign.
Google Ads
The right solution when your ad is targeting new customers. Your ad will be displayed based on criteria such as relevance, keywords, bid amount. When it comes to your budget, you should know that there are days when Google may go over your average daily budget so as not to lose leads, and on other days it will be lower so you don't go over your set budget. How will the ad be displayed and where? Depending on the bid amount, quality, extensions, ad context.
Google Analytics
Helps you measure and analyze site data. A tool that helps you plan your marketing and conversion strategies. The statistics provided by this tool inform about the preferences of visitors to your website, topics searched, services, locations,
traffic sources, what problems the site has, etc.
Regardless of the size or age of your site, create a Google Analytics account.
The tools used in PPC campaigns will help you go through all the stages of choosing the best solutions for your business.
The best platforms for PPC campaigns
You can spend your advertising budget in many online spaces, but some of the best platforms to do so are:
Google Ads
Most searched on the Internet. Billions of searches take place every day, and the chance to build a successful marketing campaign is high.
Facebook ads
With the help of this platform, you can set campaigns according to several criteria, such as age, behavior, interests, hobbies, passions. Ads are displayed in the feed among other news, which will provide easier access to your products or services.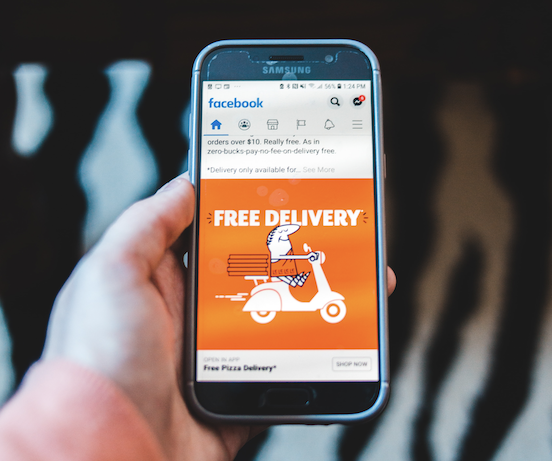 Wondering why not choose organic business growth? It's simple. Because this growth model requires investing in SEO, and SEO means time, which can be a long time most of the time. And since we are in a hurry, a PPC campaign is the best choice.
Be careful how you build this campaign, though, as sometimes the cost can equal or even exceed the conversions you get if the campaign isn't optimized.